Regular price
Rs 1,050.00
Regular price
Sale price
Rs 1,050.00
Unit price
per
Sale
Sold out
Available in The Man Company Stores

The Man Company

1. Bagatelle Mall, Bagatelle. WhatsApp/Mob :+23059880810

2. La Croisette, Grand Bay. WhatsApp/Mob : +23059759650

3.Flacq, Coeur De Ville. WhatsApp/Mob : +23059759636

4.Victoria Urban Terminal, Port Louis. WhatsApp/Mob : +23059874699
Shipping

We provide four forms of shipping

1. Home Delivery - Rs. 200 or Free as from Rs. 1800+ purchase. Within 48 hrs. exc. Sundays

2. Post Office - Rs. 75 or Free as from Rs. 1000+ purchase. We post with 48hrs exc. weekends and send you tracking. Postage fee includes mandatory packing materials.

3. Express Post Office - Rs. 105 or Free as from Rs. 1500+ purchase. We post with 48hrs exc. weekends and send you tracking. Postage fee includes mandatory packing materials.

4. Collect. Discover our exclusive men grooming stores and offers when you collect your parcels for free at The Man Company Bagatelle Mall, GBLC Mall, Flacq Coeur De Ville and Victoria Urban Terminal. Collect is available within 48hrs of confirming order.
Ingredients

Key ingredients:

Caffeine Beard Growth Serum
Coffee Arabica
• Replenishes the beard making it look fresh.
• It leaves a refreshing aroma that is relaxing yet energizing.
• It might stop hair loss and promote hair growth thus making your beard voluminous.
Biotin
• Adds life to your beard.
• It can improve the overall quality of your hair.
• It helps strengthen and add volume to your beard.
• Biotin can make your beard look and feel shiny and hydrated.
Other Ingredients: Purified Water, Biotin, Benzyl Alcohol, Camellia Sinensis (Green Tea) Extract, Caffeine, Emblica Officinalis (Amla) Extract, Eclipta Alba (Bhringraj) Extract, Fenugreek Trigonella Foenum-Graecum (Methi) Extract, Glycerin, Lactic Acid, Moringa Oleifera (Sahjan)Extract, Potassium Sorbate, Panthenol, PVP K-30, Sodium Benzoate, Sodium Hydroxide, Xanthan Gum, Fragrance.


Caffeine Face Moisturiser

Coffee Arabica

This ingredient improves skin elasticity thus preventing ageing. Caffeine in Coffee Arabica helps nourish and tone skin.
Shea Butter

Makes skin soft and supple and gives an even skin tone. Its anti-inflammatory in nature and It's great for sensitive skin because of its moisturising properties.
Other Ingredients: Purified Aqua, Caprylic/Capric Triglyceride, Glycerin, Glyceril Stearate, Sodium Lactate, Cetyl Alcohol, Emulsifying Wax NF, ButyrospermumParkii (Shea Butter), Dimethicone, Caffeine, Theobroma Cacao (Cocoa) Butter, Benzyl Alcohol, Carbomer (Carbopol 2020), Potassium Sorbate, Sodium Benzoate, Allantoin, Coffea Arabica Seed Extract, Disodium EDTA, Tocopheryl (Vitamin E) Acetate,HydrocotylCentella Asiatica (Gotu Kola) Extract, WithaniaSomnifera (Ashwgandha), Moringa Oleifera (Sahjan) Extract, Fragrance.
Face Care Kit Details
Arranged to the liking of Ayushmann Khurrana, this face care kit might be a blessing in disguise for your face. All eyes will be on you as your face radiates a fresh glow, courtesy of The Man Company. It contains a Caffeine Moisturiser and a Caffeine Face Serum, all set to give you a royal hydrating nourishment.
Caffeine Moisturiser
Caffeine Face Serum
Caffeine Moisturiser: With its healing properties and hydration, this moisturiser is capable of topping your favourites. It hydrates and evens out skin tone leaving your skin soft and blemish-free with the help powerful ingredients like Coffee Arabica and Shea Butter.
Caffeine Face Serum: With Coffee Arabica and Hyaluronic Acid, this serum removes blemishes while providing your face with the nourishment it deserves.
How to Use
Step 1: Take appropriate amount of the moisturiser onto your palm. Apply it all over the face and neck, gently after washing your face
Step 2: Wash your face. Take 2-3 drops of the serum on your palm or directly on your face. Massage gently all over the face until completely absorbed. Apply it every night before sleeping.
View full details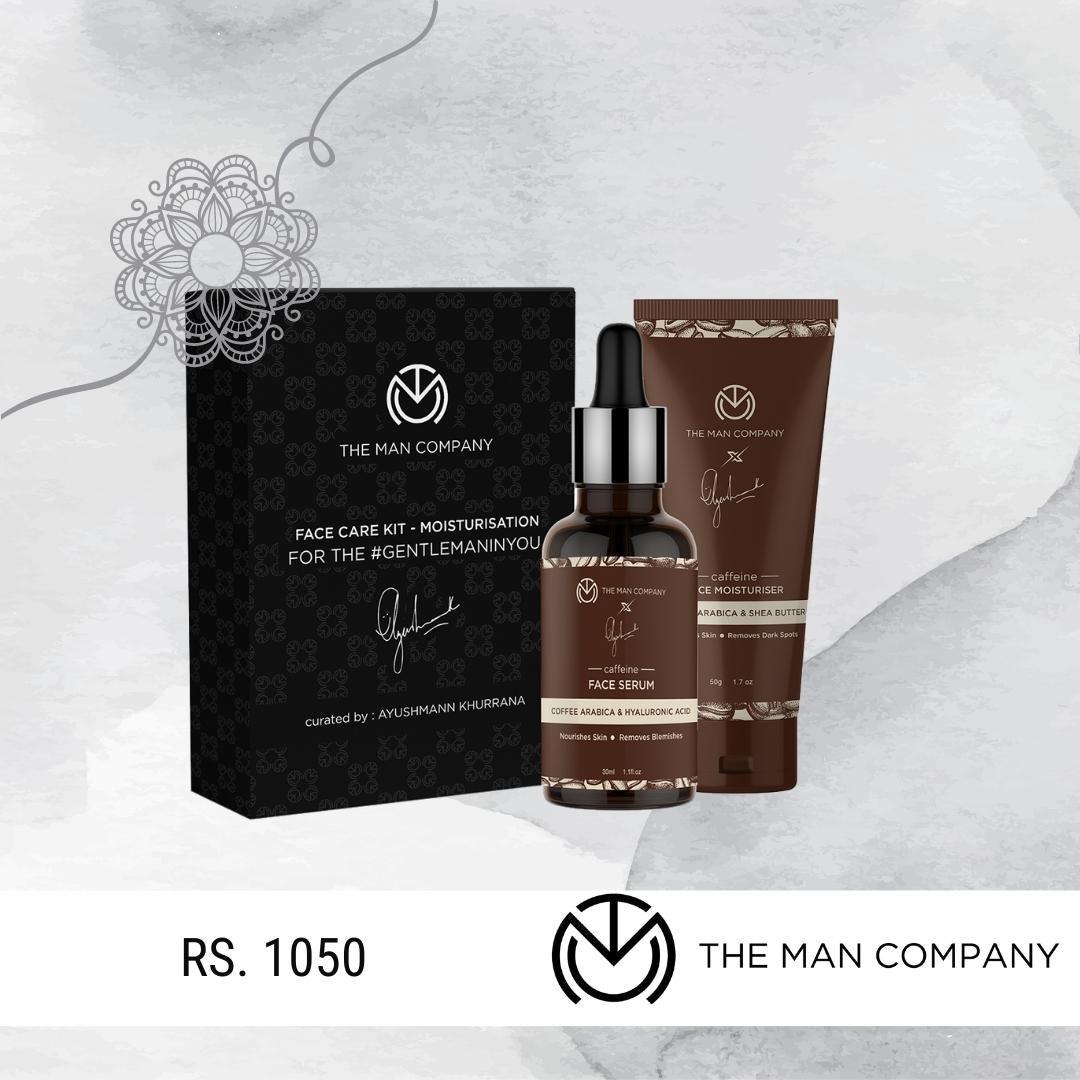 Feedback regarding purchase from man and company
Product actually in use and at first glance satistfied regardimg the purchase.
Will be able to provide more comment after 2 weeks of use to notice the real effect.