Regular price
Sale price
Rs 600.00
Unit price
per
Sale
Sold out
Available in The Man Company Stores

The Man Company

1. Bagatelle Mall, Bagatelle. WhatsApp/Mob :+23059880810

2. La Croisette, Grand Bay. WhatsApp/Mob : +23059759650

3.Flacq, Coeur De Ville. WhatsApp/Mob : +23059759636

4.Victoria Urban Terminal, Port Louis. WhatsApp/Mob : +23059874699
Shipping

We provide four forms of shipping

1. Home Delivery - Rs. 200 or Free as from Rs. 1800+ purchase. Within 48 hrs. exc. Sundays

2. Post Office - Rs. 75 or Free as from Rs. 1000+ purchase. We post with 48hrs exc. weekends and send you tracking. Postage fee includes mandatory packing materials.

3. Express Post Office - Rs. 105 or Free as from Rs. 1500+ purchase. We post with 48hrs exc. weekends and send you tracking. Postage fee includes mandatory packing materials.

4. Collect. Discover our exclusive men grooming stores and offers when you collect your parcels for free at The Man Company Bagatelle Mall, GBLC Mall, Flacq Coeur De Ville and Victoria Urban Terminal. Collect is available within 48hrs of confirming order.
Ingredients

Aqua,Emblica Officinalis, Aloe ​Barbadensis, Cucumis sativus, Azadirachta indica, Camellia sinensis, Glycerol, Decyl glucoside, Cocamidopropyl ​Betaine, Polyquaternium-7,Polyquaternium-39, Ethylhexyl glycerine, ​Phenoxyethanol, Permitted color, Fragrance
Effective deep pore exfoliation
Keeps pimple and pimple scars in check
Removes dirt & excess oil
Reduces dark spots and improves skin texture
Purified and healthy skin with every wash
SLS and Paraben Free
Foaming Face Wash Details
It is our face that people remember us by, shall we not do something more than just soap and water for it?
Give your skin, deep-cleansing with The Man Company Foaming Face Wash. A one of its kind face wash with an in-built brush with soft bristles that exfoliates the skin removes dirt, excess oil and impurities from deep within.
The foam builds up easily, making it easy for the product to be applied over the skin. Supply your skin with hydration and moisturisation of Aloe Vera and Cucumber so your skin doesn't dry out. With the power of natural ingredients like Amla, Green Tea extract and Neem, it balances the essential oils, tightens the pores, improves skin texture and lightens dark spots.
Revive your tired skin with The Man Company Foaming Face Wash and give it a healthy hydrated glow.
Benefits of Foaming Face Wash 
Effective exfoliation: With the in-built brush, this face wash provides a gentle and deep cleansing experience like never before. It exfoliates the skin and draws out germs, dirt, impurities and pollutants from deep into the pores
Powerful combination of ingredients: Effective natural ingredients like Neem, Aloe Vera, Cucumber, Amla, and Green Tea extracts gives you a purified and rejuvenated skin
Keep pimples in check: Excessive oil accumulation leads to pimple breakouts. With Neem and Green Tea, this foaming face wash keeps the skin absolute clean and controls excessive sebum production.
Reverses sun damage: The Aloe Vera and Green Tea extract present in this face wash reverse sun damage while effectively restoring your natural skin tone.
No harmful chemicals: Free of SLS and Parabens, it is completely safe for all types of skin.
Usage: Use twice daily to get a fresh, glowing skin.
Quick tip: Don't forget to use Essencia Moisturising Cream
HOW TO USE?
Step 1: Wet your face and neck with water
Step 2: Pump out The Man Company foaming face wash on to the built-in brush
Step 3: Gently massage this foamy cleanser in a circular motion onto damp skin with the brush.
Step 4: Move from the base of your neck to the jawline and then upwards to the cheeks, nose and forehead
Step 5: Massage for 2 mins and rinse with plain water
FAQ's
Does it help with itchiness and dryness?
This face wash helps soothe your skin and hydrate it by the grace of Aloe Vera and Cucumber.
It is best suited for which skin type?
With its natural ingredients and perfected mix, this blend is suited for all skin types.
Will it help with my acne?
The blend is carefully formulated with the goodness and anti-inflammatory properties of Neem extracts and Amla. Not only does this prevent future breakouts, but also help with acne scars haunting your face.
View full details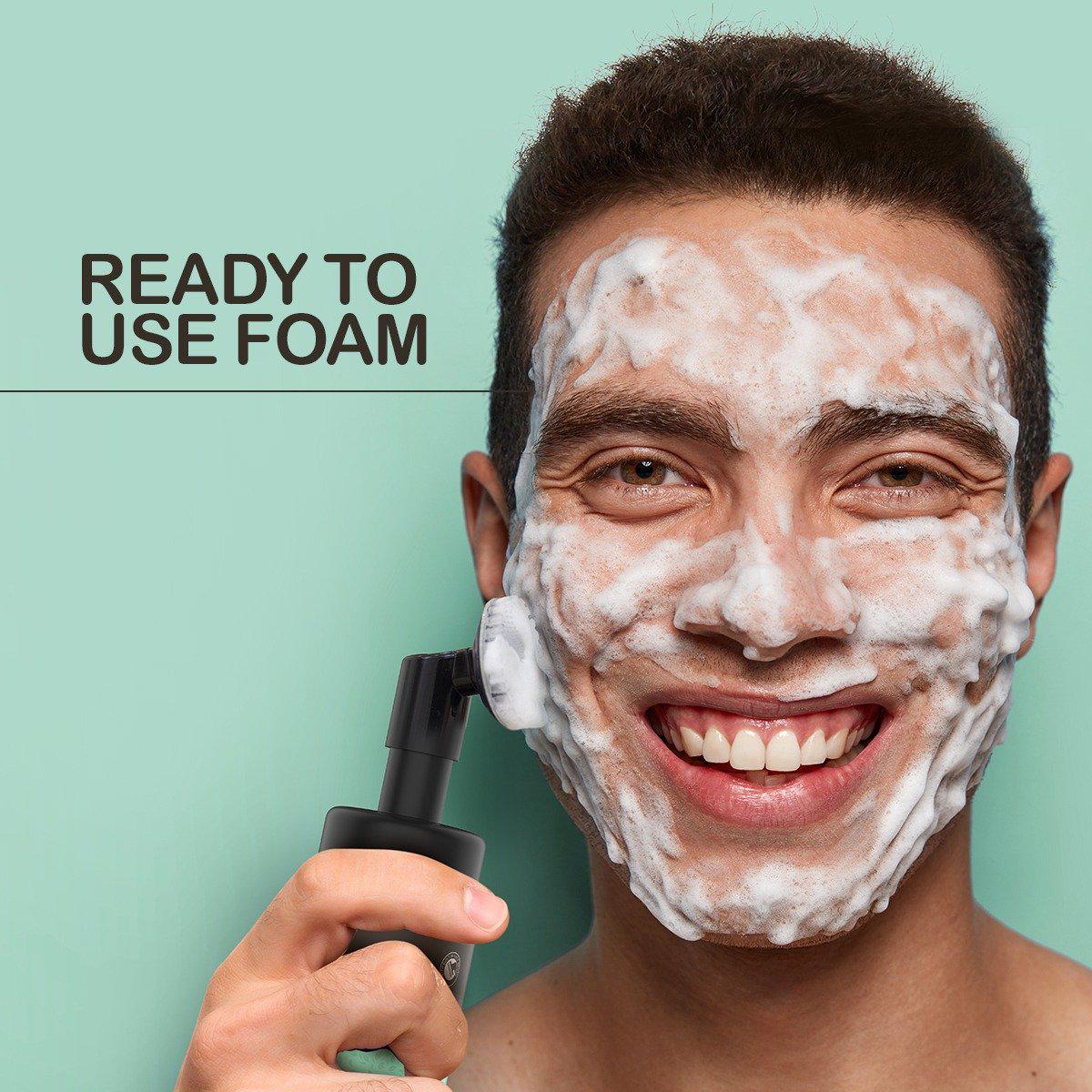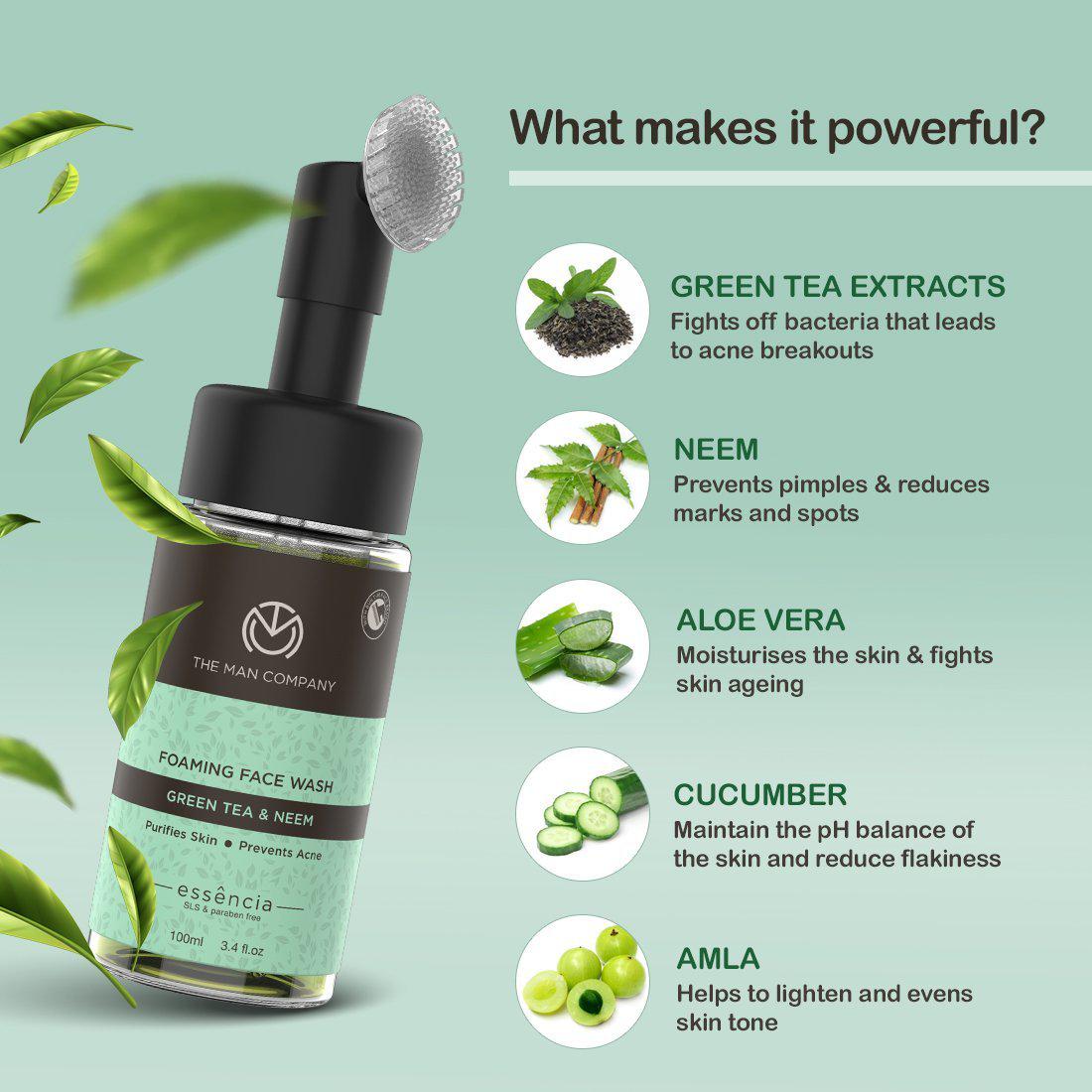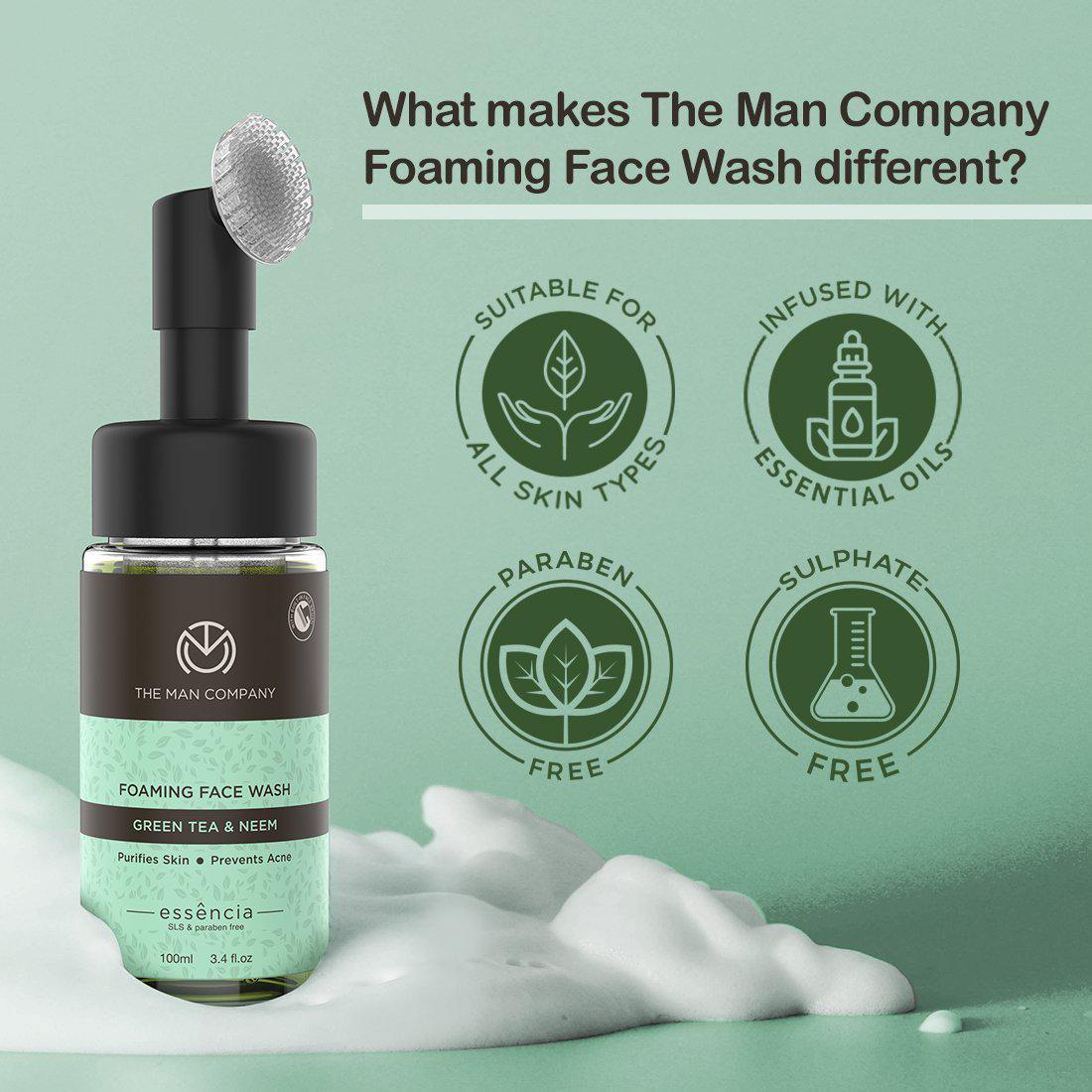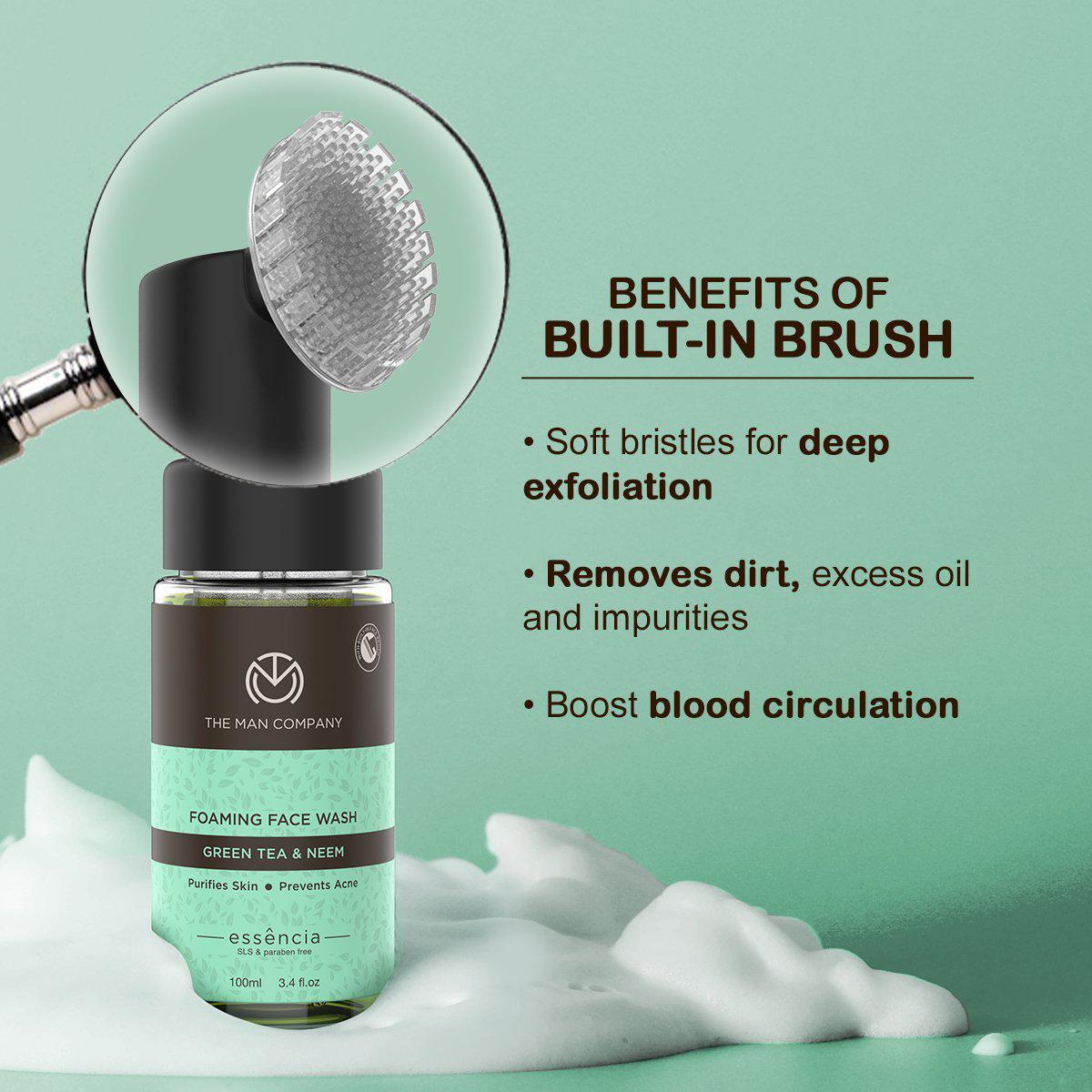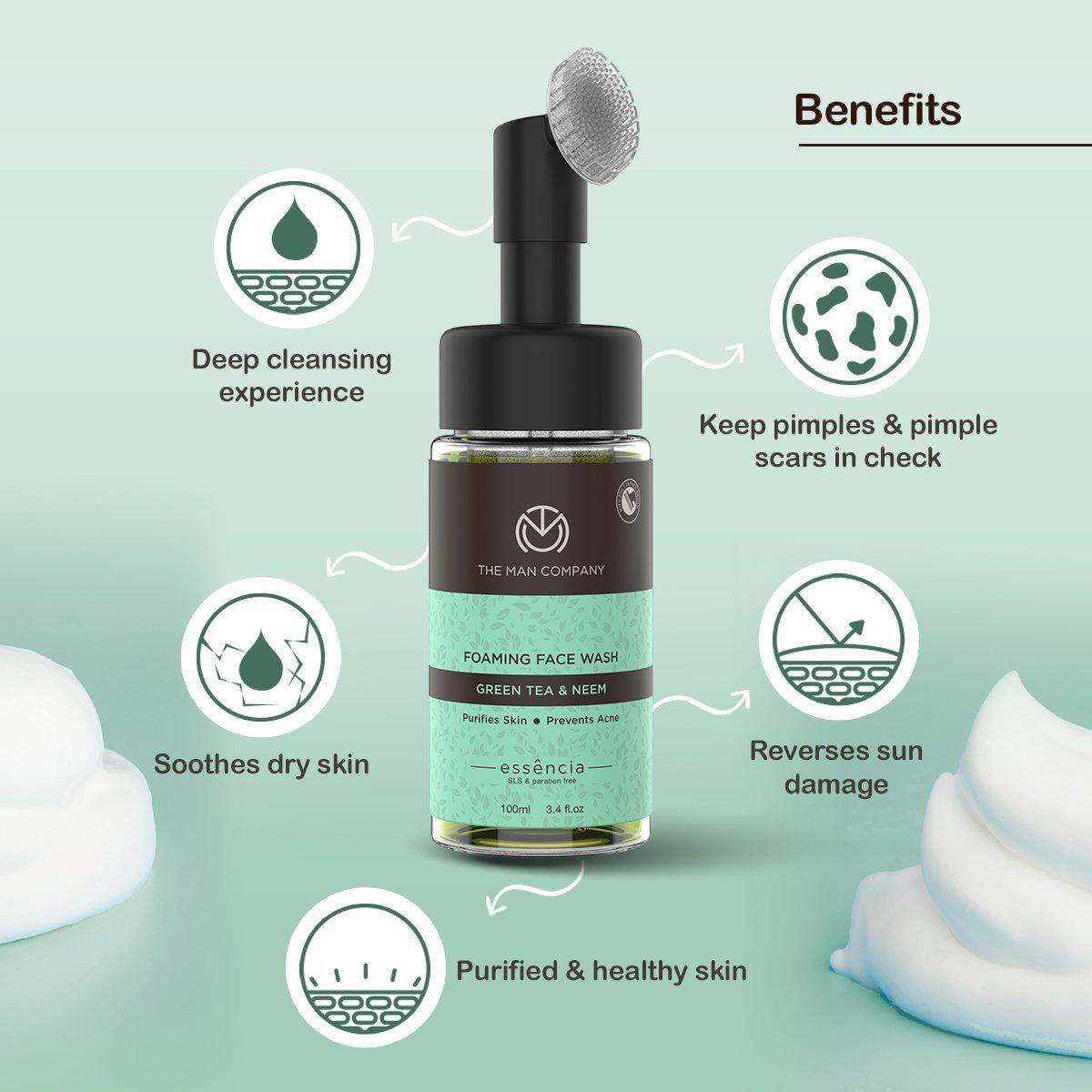 It's for a teenager
My son really enjoys the feel and the soft brush that comes with it to gently exfoliate the skin. He has on and off acne and with the help of a dermatologist and using this product it helps control the sebum
superb
At long last, something that has ingredients that I can find in my backyard and easy to pronounce! no chemicals, nothing! plus something made by people who understand brown skin! non of that l'oreal, or nivea B.S!
Recommended product
Very effective foam. It keeps your face fresh and oil free
I find this foam one of the best I've tried. You really only need 1 pump and my skin looks refreshed and calm right away. Does not irritate my sensitive skin and smells really good! The texture is slightly more creme mousse like that was a pleasant surprise.
Simply Magical!
Believe me, when using this Foaming Face Wash, I feel like my skin is tightening! Got no more pimple popping! A must use product!