Regular price
Sale price
Rs 350.00
Unit price
per
Sale
Sold out
Available in The Man Company Stores

The Man Company

1. Bagatelle Mall, Bagatelle. WhatsApp/Mob :+23059880810

2. La Croisette, Grand Bay. WhatsApp/Mob : +23059759650

3.Flacq, Coeur De Ville. WhatsApp/Mob : +23059759636

4.Victoria Urban Terminal, Port Louis. WhatsApp/Mob : +23059874699
Shipping

We provide four forms of shipping

1. Home Delivery - Rs. 200 or Free as from Rs. 1800+ purchase. Within 48 hrs. exc. Sundays

2. Post Office - Rs. 75 or Free as from Rs. 1000+ purchase. We post with 48hrs exc. weekends and send you tracking. Postage fee includes mandatory packing materials.

3. Express Post Office - Rs. 105 or Free as from Rs. 1500+ purchase. We post with 48hrs exc. weekends and send you tracking. Postage fee includes mandatory packing materials.

4. Collect. Discover our exclusive men grooming stores and offers when you collect your parcels for free at The Man Company Bagatelle Mall, GBLC Mall, Flacq Coeur De Ville and Victoria Urban Terminal. Collect is available within 48hrs of confirming order.
Ingredients

Aqua, Ceteareth-25, Polyquaternium-39, Propylene Glycol,Phenoxyethanol, PEG 40 Hydrogenated Castor Oil, Parfum, PEG 8 Almond Oil, PEG 8 Argan Oil
Made of Almond Oil and Argan Oil
Extra Strong Hold
Matte finish
Easy to rinse
 Silicon Free
Sulphate & Paraben Free
Hair Styling Brawn Hair Wax (50 gm)
Your hair would say aloud how special and settled it feels! This extra strong hold hair wax will make sure that your hairstyle remains maintained as you go about your many triumphs. It captures nourishment and protects your hair against damage. Almost a nice moisturiser to your hair, this hair wax gives your hair as established matte look. It is enriched with Almond Oil which enhances hair thickness, adds nourishment combats hair loss, locks nutrients into hair, and prevents premature greying. With deep nourishment from Argan Oil, it provides a fatty layer to your hair and scalp that may help prevent dryness andBrawn Hair Wax can help reduce frizz and boost shine.
Product Info
Water Soluble
Easily spreadable
Gives a smooth after wash feel
Free of Petroleum Jelly
Recommended for: All Day - Office I Day Time
Sulphate, Paraben and Silicon Free
Benefits of Brawn Hair Wax
A good hair styling product is a must to complete your grooming. However, this hair wax has a lot more benefits, especially with regard to styling without the side effects:
Extra Strong, long-lasting hold:  A stronghold for your hair, this hair wax is going to help your style make a mark throughout the day
Matte Finish: Almost like a promise, it gives your hair a finished matte look and an important strong hold
Powerhouse Ingredients: A rich blend of Almond and Argan Oil, it enhances hair thickness, prevents premature greying, while providing a fatty layer to your hair and scalp so as to prevent dryness and help reduce frizz.
Nourishing properties: It locks nourishment into the hair
Free of Petroleum Jelly: Brawn is free of Petroleum Jelly and has Beeswax instead, which is absolutely natural
Spreads Easy: This Brawn Extra Strong Hold Hair Wax spreads easily and smoothly throughout your hair. So you can style it your way all day 
Easy to Rinse: The wax is made of natural ingredients so its water soluble. It easily rinses off with water thus ensuring that your hair follicles don't get blocked  
This Brawn Hair wax is Sulphate Free, Paraben Free and Silicon Free
View full details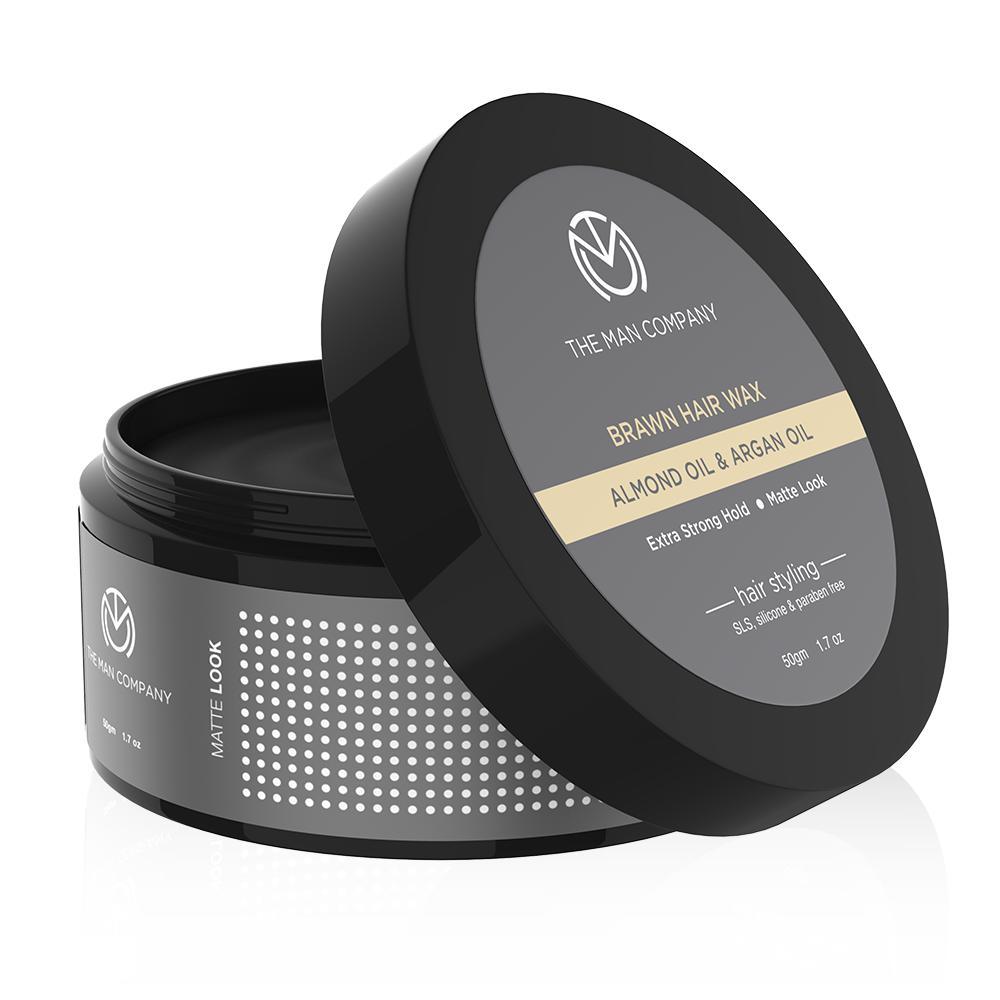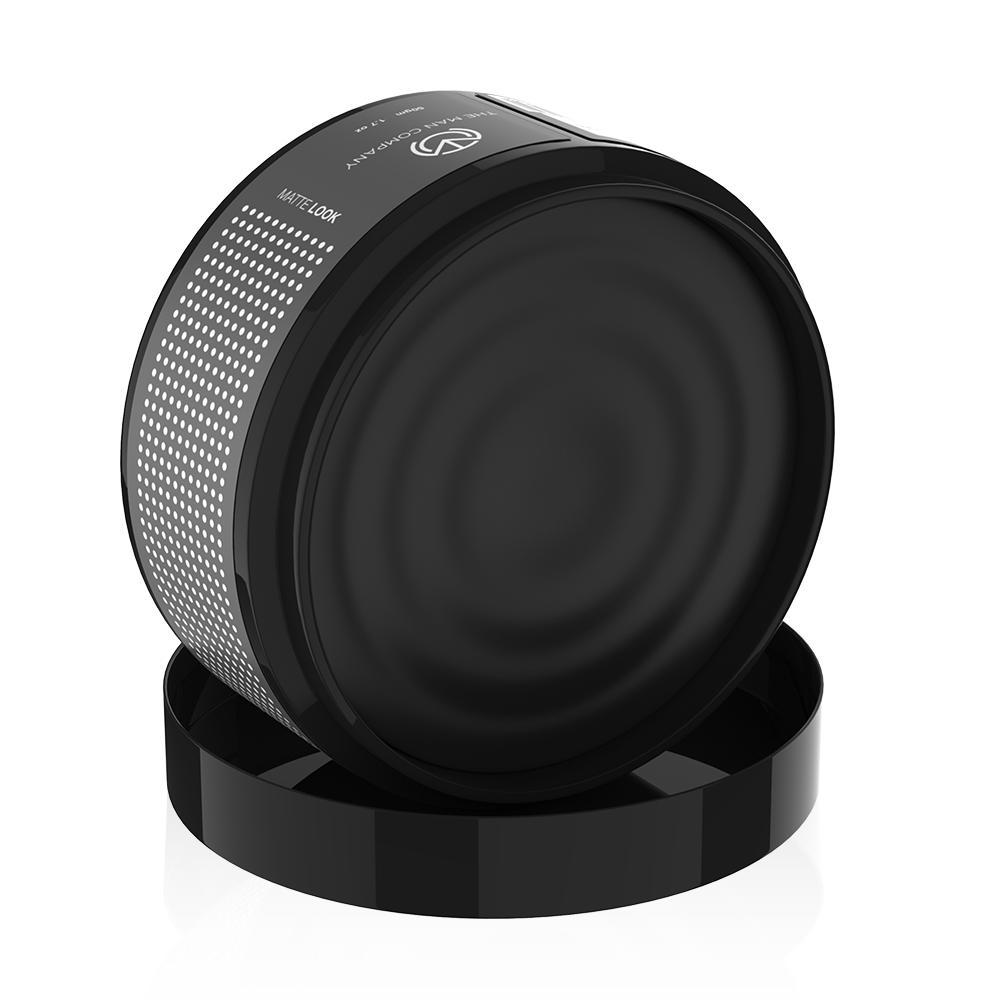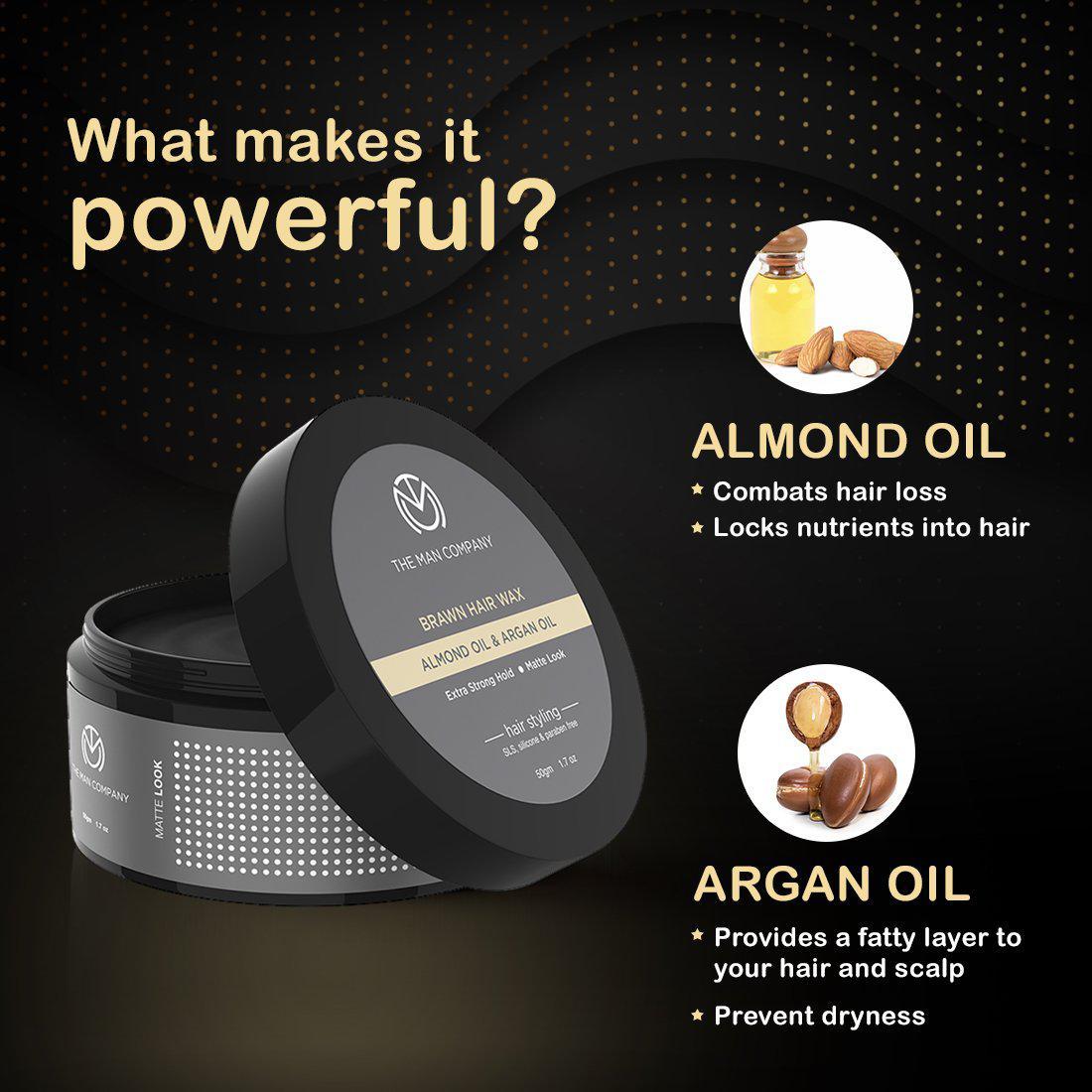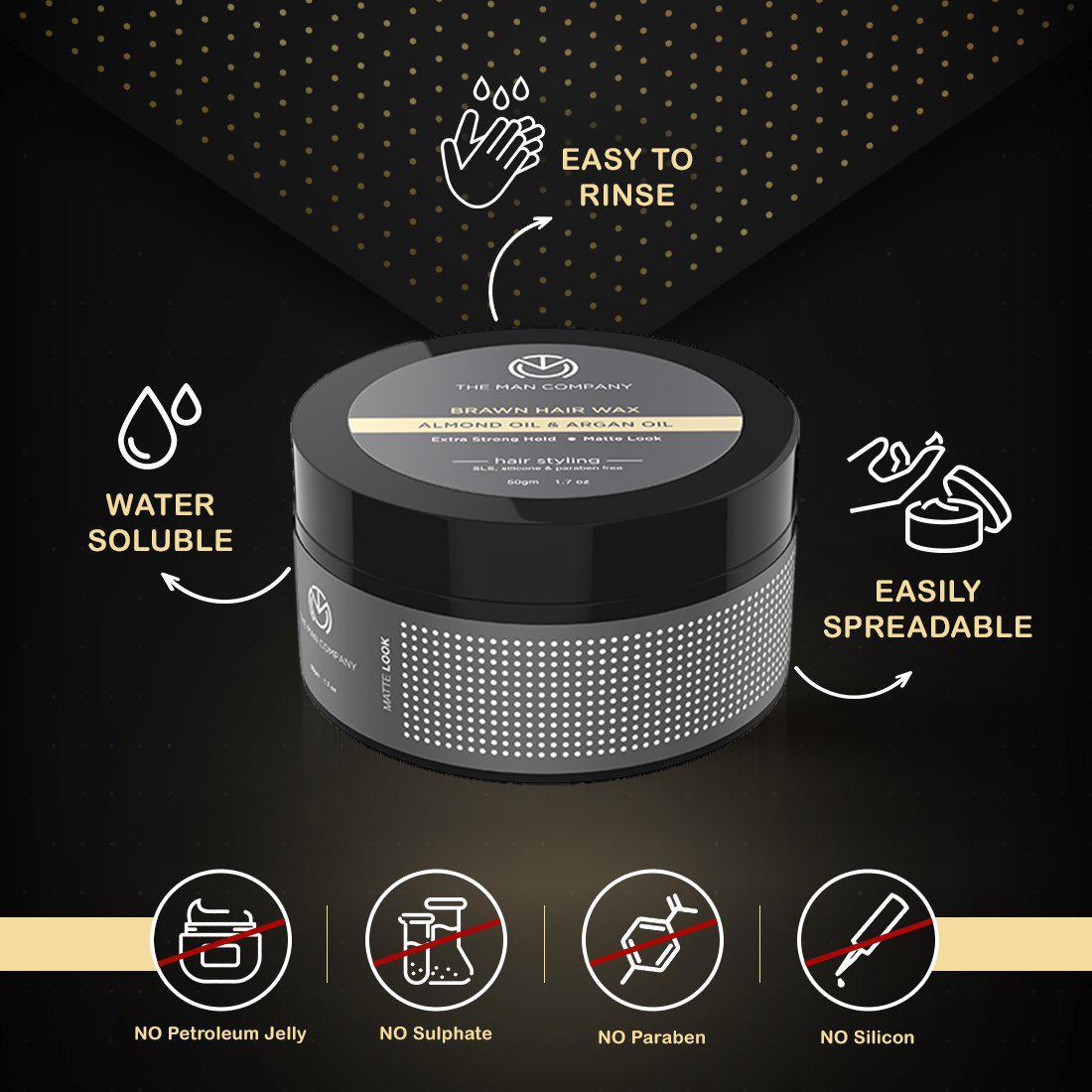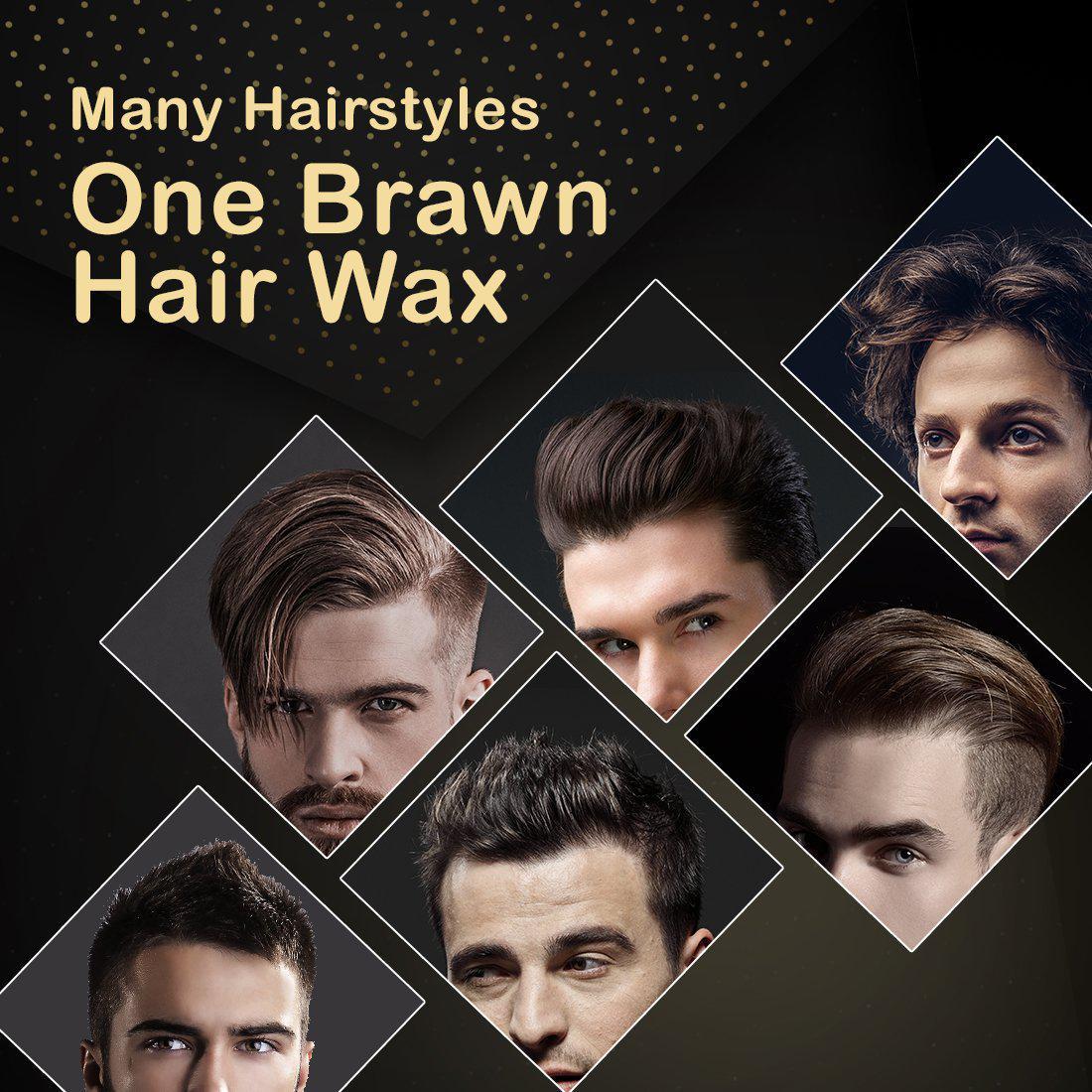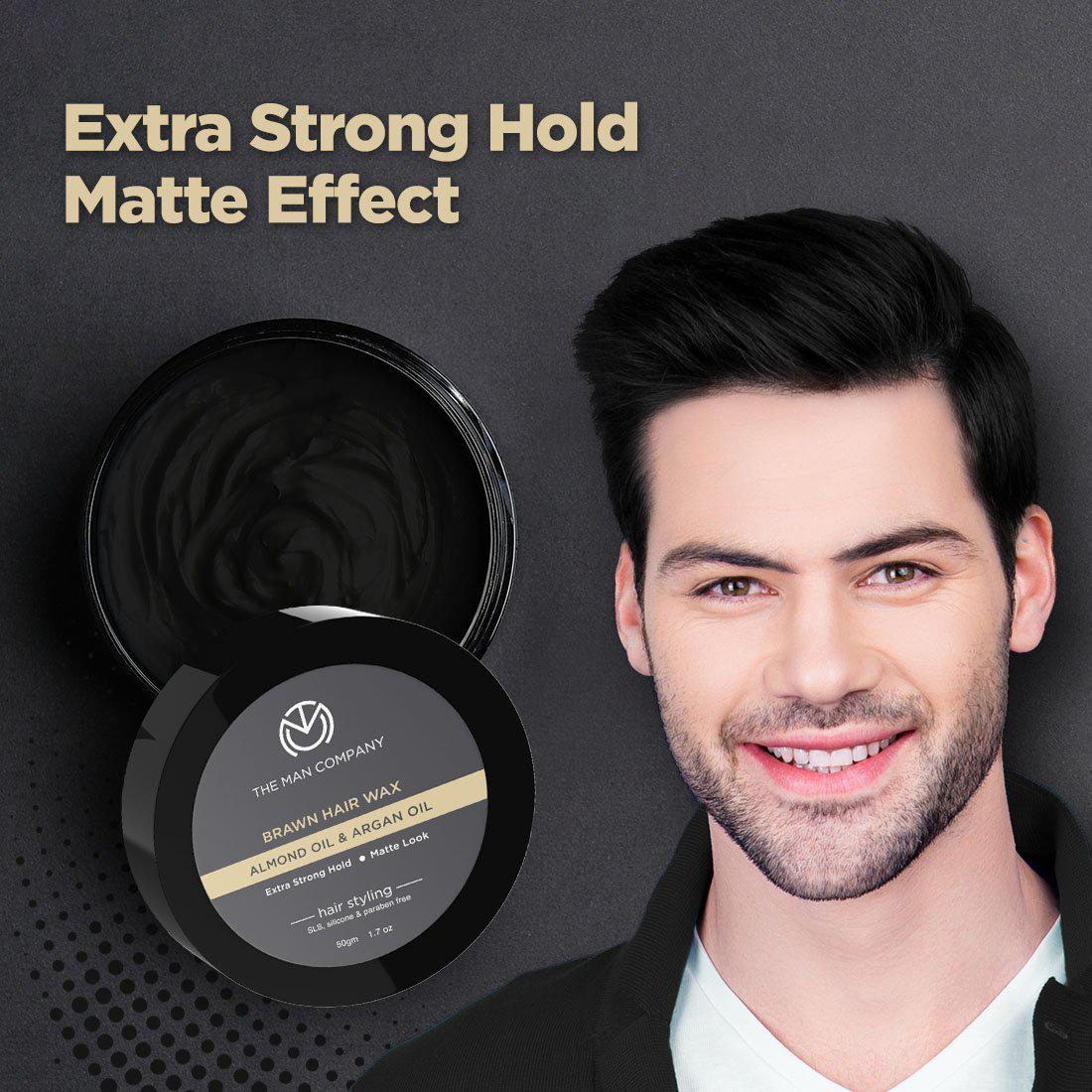 A good Product for office hairstyling
Brawn Hair Wax has a pleasant perfume and truly holds the hairstyle firmly and keep the shape of the 'coiffure', without hardening while drying and no stretching effect. I use it for office hairstyling. It also nourishes the hair without drying the hair.
I find it an interesting product to shape the end curves of my moustache too.
Once you discover it you will adopt it!
If you need complete control over your hair, the Brawn Hair wax keeps your hair structured and in-line all day. This hair wax works wonders on shorter strands between 1-3 inches, but it is able to style all types of textures and lengths. The natural, matte finish offers a nice touch that avoids the greasy, oily look other kinds of styling products can't seem to overcome. Plus, you get an understated, masculine scent that smells good.